Probability and Statistics Index > SPSS Statistics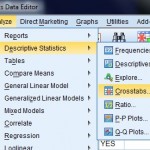 IBM SPSS Statistics is a software package that is geared towards the social sciences like federal and local governments and health care organizations. The software works similarly to Microsoft Excel, with a spreadsheet style entry field and easy-to-use toolbar. However, data entry in SPSS statistics is somewhat different, with columns used for variables. This collection of SPSS How to articles gives you the basic tools to get you started with SPSS in a step-by-step format. You'll find an introduction to the topic, videos and pictures to illustrate the points, and if you get stuck you can always ask for help on our free forum for statistics.
SPSS Statistics Index
Questions on SPSS Statistics? Post on our free forum; one of our mods will be happy to help!
Check out our Youtube channel for SPSS statistics videos.
SPSS Statistics Index
was last modified:
March 5th, 2015
by