Probability and Statistics > Confidence Intervals > How to Find a Confidence Interval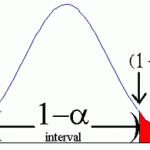 How to Find a Confidence Interval: Overview
When we talk about a confidence interval (CI), we're dealing with data. For example, let's say the manager for that job you applied for told you he would get back with you in a "couple of days." A couple of days could mean two. Or three. Or there might be a paperwork backlog and it could be a week. It definitely doesn't mean in an hour. So your CI would probably be between 2 and 4 days.
Perhaps the trickiest part of CIs is recognizing the various parts needed for the formula, like z a/2. This article breaks everything down into simple steps and shows you how to find a confidence interval for population proportions.
How to Find a Confidence Interval for a Proportion
Sample question: 510 people applied to the Bachelor's in Elementary Education program at Florida State College. Of those applicants, 57 were men. Find the 90% CI of the true proportion of men who applied to the program.
Step 1: Read the question carefully and figure out the following variables:
α : subtract the given CI from 1.
1-.9=.10
z α/2: divide α by 2, then look up that area in the z-table. Not sure how to read a z table? See this article, area to the right of a z-score for an explanation on how to read the z-table.
.1/2=.0500. The closest z-value to an area of .0500 is 0.13
: Divide the proportion given (i.e. the smaller number)by the sample size.
57/510=0.112
: Subtract from 1.
1-0.112 = 0.888
Step 2: Multiply

by

.
0.112 x 0.888 = 0.099456
Step 3: Divide step 2 by the sample size.
0.099456 / 510 = 0.000195011765
Step 4:Take the square root of step 3:
sqrt(0.000195011765) = 0.0139646613
Step 5: Multiply step 4 by z a/2:
0.0139646613 x 0.13 = 0.0182
Step 6:: For the lower percentage, subtract step 5 from

.  
0.112-0.0182 =  0.0938 = 9.38%
Step 7:For the upper percentage, add step 5 to

.
0.112 + 0.0182 =  0.1302 = 13.02%
That's how to find a confidence interval!
Check out our Youtube channel for more statistics help and tips.
How to Find a Confidence Interval: The Easy Way!
was last modified:
September 3rd, 2015
by