Contents (click to go to that section):
About Samples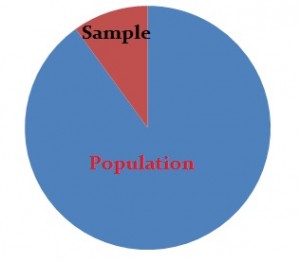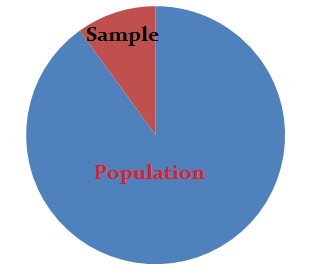 Samples are parts of a population. For example, you might have a list of information on 100 people (your "sample") out of 10,000 people (the "population"). You can use that list to make some assumptions about the entire population's behavior.
However, it's not that simple. When you do stats, your sample size has to be ideal—not too large or too small. Then once you've decided on a sample size, you must use a sound technique to collect the sample from the population:

Types:
Common Types
The most common techniques you'll likely meet in elementary statistics or AP statistics include taking a sample with and without replacement. Specific techniques include:
Less Common Types
You'll rarely (if ever) come across these techniques in a basic stats class. However, you'll come across them in the "real world":
Additional Uncommon Types
What is Sampling Error?
Errors happen when you take a sample from the population rather than using the entire population. In other words, it's the difference between the statistic you measure and the parameter you would find if you took a census of the entire population.
If you were to survey the entire population (like the US Census), there would be no error. It's nearly impossible to calculate the error margin. However, when you take samples at random, you estimate the error and call it the margin of error.
For example, if you wanted to figure out how many people out of a thousand were under 18, and you came up with the figure 19.357%. If the actual percentage equals 19.300%, the difference (19.357 – 19.300) of 0.57 or 3% = the margin of error. If you continued to take samples of 1,000 people, you'd probably get slightly different statistics, 19.1%, 18.9%, 19.5% etc, but they would all be around the same figure. This is one of the reasons that you'll often see sample sizes of 1,000 or 1,500 in surveys: they produce a very acceptable margin of error of about 3%.
Formula: the formula for the margin of error is 1/√n, where n is the size of the sample. For example, a random sample of 1,000 has about a 1/√n; = 3.2% error.
Sample error can only be reduced, this is because it is considered to be an acceptable tradeoff to avoid measuring the entire population. In general, the larger the sample, the smaller the margin of error. There is a notable exception: if you use cluster sampling, this may increase the error because of the similarities between cluster members. A carefully designed experiment or survey can also reduce error.
Another Type of Error
The non-sampling error could be one reason as to why there's a difference between the sample and the population. This is due to poor data collection methods (like faulty instruments or inaccurate data recording, selection bias, non response bias (where individuals don't want to or can't respond to a survey), or other mistakes in collecting the data. Increasing the sample size will not reduce these errors. They key is to avoid making the errors in the first place with a well-planned design for the survey or experiment.
More Articles
Check out our YouTube channel for more stats tips and help!
------------------------------------------------------------------------------
If you prefer an online interactive environment to learn R and statistics, this free R Tutorial by Datacamp is a great way to get started. If you're are somewhat comfortable with R and are interested in going deeper into Statistics, try this Statistics with R track.
Comments are now closed for this post. Need help or want to post a correction? Please post a comment on our
Facebook page
and I'll do my best to help!
Sampling in Statistics: Types & Error
was last modified:
March 14th, 2018
by