What is Non-Probability Sampling?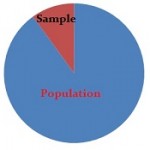 Non-probability sampling is a sampling technique where the probability of any member being selected for a sample cannot be calculated. It's the opposite of probability sampling, where you can calculate the probability. In addition, probability sampling involves random selection, while non-probability sampling does not—it relies on the subjective judgement of the researcher.
The probabilities do not have to be equal for a method to be considered probability sampling. For example, one person could have a 10% chance of being selected and another person could have a 50% chance of being selected. It's non-probability sampling when you can't calculate the probabilities at all.
Watch the video for an overview of the different types of non-probability sampling:

Advantages and disadvantages
A major advantage with non-probability sampling is that—compared to probability sampling—it's very cost- and time-effective. It's also easy to use and can also be used when it's impossible to conduct probability sampling (e.g. when you have a very small population to work with).
One major disadvantage of non-probability sampling is that it's impossible to know how well you are representing the population. Plus, you can't calculate confidence intervals and margins of error. This is the major reason why, if at all possible, you should consider probability sampling methods first.
Despite the disadvantages, survey data collection costs have risen dramatically in recent years, resulting in many researchers and polling companies abandoning expensive probability-based samples for less expensive non-probability methods (Wisniowski et al., 2020).
Types of Non-Probability Sampling
Many specific advantages and disadvantages exist for different types of non-probability sampling. You'll find more information about each method below (click on a name to read more about a specific method's advantages and disadvantages).
References
Dodge, Y. (2008). The Concise Encyclopedia of Statistics. Springer.
Everitt, B. S.; Skrondal, A. (2010), The Cambridge Dictionary of Statistics, Cambridge University Press.
Wisniowski, A. et al. Integrating Probability and Nonprobability Samples for Survey Inference. Journal of Survey Statistics and Methodology, Volume 8, Issue 1, February 2020, Pages 120–147, https://doi.org/10.1093/jssam/smz051