Main > Critical Values & Hypothesis Testing > F Test to Compare Two Variances
What is an F Test to Compare Two Variances?
A Statistical F Test uses an F Statistic to compare two variances, s1 and s2, by dividing them. The result is always a positive number (because variances are always positive). The equation for comparing two variances with the f-test is:
F = s21 / s22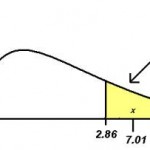 F Test to compare two variances by hand: Steps
Warning: F tests can get really tedious to calculate by hand, especially if you have to calculate the variances. You're much better off using technology (like Excel — see below).
Step 1: If you are given standard deviations, go to Step 2. If you are given variances to compare, go to Step 3.
Step 2: Square both standard deviations to get the variances. For example, if σ1 = 9.6 and σ2 = 10.9, then the variances (s1 and s2) would be 9.62 = 92.16 and 10.92 = 118.81.
Step 3:Take the largest variance, and divide it by the smallest variance to get the f-value. For example, if your two variances were s1 = 2.5 and s2 = 9.4, divide 9.4 / 2.5 = 3.76.
Why? Placing the largest variance on top will force the F-test into a right tailed test, which is much easier to calculate than a left-tailed test.
Step 4:Look the f-value you calculated in Step 3 in the f-table. Note that there are several f-tables, so you'll need to locate the right table for your alpha level. Unsure how to read an f-table? Read What is an f-table?.
Step 4:Compare the f-critical value in Step 4 with the f-value in Step 3. If the f-value is smaller than the f-critical value, you can reject the null hypothesis.
That's it!
F Test to Compare Two Variances in Excel
If you have Excel on your computer, you can use Data Analysis to find variances. If you have to do the calculations by hand, you can use Excel to check your work. Check out this short video:
Subscribe to our Youtube channel for more stats videos.
Still have questions? Check our FREE statistics forum. Our resident stats guy will answer your tricky stats problems. He'll even tackle homework (just please be kind and only post one question at a time :) ).
F Test to Compare Two Variances: How to in Easy Steps
was last modified:
February 12th, 2014
by