Hypothesis Testing > F Test to Compare Two Variances
What is an F Test to Compare Two Variances?
A Statistical F Test uses an F Statistic to compare two variances, s1 and s2, by dividing them. The result is always a positive number (because variances are always positive). The equation for comparing two variances with the f-test is:
F = s21 / s22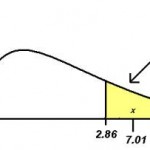 F Test to compare two variances by hand: Steps
Warning: F tests can get really tedious to calculate by hand, especially if you have to calculate the variances. You're much better off using technology (like Excel — see below).
These are the general steps to follow. Scroll down for a specific example (watch the video underneath the steps).
Step 1: If you are given standard deviations, go to Step 2. If you are given variances to compare, go to Step 3.
Step 2: Square both standard deviations to get the variances. For example, if σ1 = 9.6 and σ2 = 10.9, then the variances (s1 and s2) would be 9.62 = 92.16 and 10.92 = 118.81.
Step 3:Take the largest variance, and divide it by the smallest variance to get the f-value. For example, if your two variances were s1 = 2.5 and s2 = 9.4, divide 9.4 / 2.5 = 3.76.
Why? Placing the largest variance on top will force the F-test into a right tailed test, which is much easier to calculate than a left-tailed test.
Step 4:Find your degrees of freedom. Degrees of freedom is your sample size minus 1. As you have two samples (variance 1 and variance 2), you'll have two degrees of freedom: one for the numerator and one for the denominator.
Step 5:Look the f-value you calculated in Step 3 in the f-table. Note that there are several f-tables, so you'll need to locate the right table for your alpha level. Unsure how to read an f-table? Read What is an f-table?.
Step 4:Compare your calculated value (Step 3) with the table f-value in Step 5. If the f-table value is smaller than the calculated value, you can reject the null hypothesis.
That's it!
F Test to Compare Two Variances in Excel
If you have Excel on your computer, you can use it to run an F Test to Compare Two Variances. If you have to do the calculations by hand, you can use Excel to check your work. Check out this short video:
Subscribe to our Youtube channel for more stats videos.
If you prefer an online interactive environment to learn R and statistics, this free R Tutorial by Datacamp is a great way to get started. If you're are somewhat comfortable with R and are interested in going deeper into Statistics, try this Statistics with R track.
Comments are now closed for this post. Need help or want to post a correction? Please post a comment on our
Facebook page
and I'll do my best to help!
F Test to Compare Two Variances: How to in Easy Steps
was last modified:
October 15th, 2017
by