Statistics Definitions > Bell Curve / Normal Curve
What is a Bell Curve or Normal Curve?
A bell curve is another name for a normal distribution curve (sometimes just shortened to "normal curve") or Gaussian distribution. The name comes from the fact it looks bell-shaped.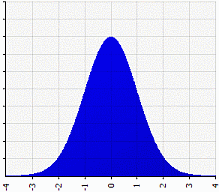 The term "bell curve" is usually used in the social sciences; in statistics, it's called a normal distribution and in physics, it's called a Gaussian distribution. However, they all refer to exactly the same thing: a probability distribution that has certain characteristics, including the fact it's shaped like a bell.
Characteristics of Bell Curves, Normal Curves
Some other distributions are bell-shaped as well, including the T Distribution and the Cauchy distribution, but they have different characteristics (including different measures for standard deviations).
Many phenomena have probability distributions that are bell curves, including:
Heights
Weights
IQ scores
Growth rates
Exam scores
Temperatures connected to Global warming
A
standard deviation
is a unit of measurement that can help you with figuring out where data items are likely to fall. For example, 68% of all measurements fall within one
standard deviation
either side of the mean. In other words, the bulk of your data will fall between -1 and +1
standard deviations
from the
mean
. If you go out to two
standard deviations
, that percentage rises to 95; almost all (99.7%) of your data will fall within three
standard deviations
. ------------------------------------------------------------------------------
Need help with a homework or test question? With Chegg Study, you can get step-by-step solutions to your questions from an expert in the field. If you rather get 1:1 study help, Chegg Tutors offers 30 minutes of free tutoring to new users, so you can try them out before committing to a subscription.
If you prefer an online interactive environment to learn R and statistics, this free R Tutorial by Datacamp is a great way to get started. If you're are somewhat comfortable with R and are interested in going deeper into Statistics, try this Statistics with R track.
Comments? Need to post a correction? Please post a comment on our Facebook page.
Check out our updated Privacy policy and Cookie Policy
Bell Curve (Normal Curve): Definition
was last modified:
November 7th, 2017
by