Like most phrases you'll come across in probability and statistics,to calculate an expected value sounds like a daunting undertaking. Until you realize it only takes a few simple steps to figure it out. This article explains how to figure out the expected value for a single item (like purchasing a single raffle ticket). Further down in the page you'll find an explanation of what to do if you have multiple items.

Calculate an Expected value in statistics
Sample question: You buy one $10 raffle ticket for a new car valued at $15,000. Two thousand tickets are sold. What is the expected value of your gain?
Step 1: Construct a probability chart. Put Gain(X) and Probability P(X) heading the rows and Win/Lose heading the columns.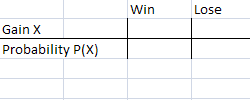 Step 2: Figure out how much you could gain and lose. In our example, if we won, we'd be up $15,000 (less the $10 cost of the raffle ticket). If you lose, you'd be down$10.  Fill in the data (I'm using Excel here, so the negative amounts are showing in red).

Step 3: In the bottom row, put your odds of winning or losing. Seeing as 2,000 tickets were sold, you have a 1/2000 chance of winning. And you also have a 1,999/2,000 probability chance of losing.

Step 4: Multiply the gains (X) in the top won by the Probabilities (P) in the bottom row.
$14,990 * 1/2000 = 7.495,
(-$10)*(1,999/2,000)= -$9.995
That's it!
Note on multiple items: for example, what if you purchase a $10 ticket, 200 tickets are sold, and as well as a car, you have runner up prizes of a CD player and luggage set?
Perform the steps exactly as above. Make a probability chart except you'll have more items:

Then multiply/add the probababilities as in step 4: 14,990*(1/200) + 100 * (1/200) + 200 * (1/200) +  -$10 * (197/200).
You'll note now that because you have 3 prizes, you have 3 chances of winning, so your chance of losing decreases to 197/200.
Note on the formula: The actual formula for expected gain in probability and statistics is E(X)=∑X*P(X) (this is also one of the AP Statistics formulas).  What this is saying (in English) is "The expected value is the sum of all the gains multiplied by their individual probabilities."