Inferential Statistics > Comparison of Means
Comparison of Means Techniques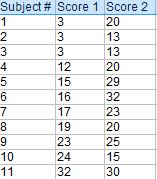 There are many cases in statistics where you'll want to compare means for two populations or samples. Which technique you use depends on what type of data you have and how that data is grouped together.


The four major ways of comparing means from data that is assumed to be normally distributed are:
Non Normal Data
If you have non-normal data (or if you don't know what distribution your data comes from), you can't use any of the above tests for comparison of means. You must use a non-parametric test (non-parametric basically means that you don't know the distribution's parameters):
For independent samples, use the Mann-Whitney U test. This test is essentially the same as the t-test for independent samples.
For paired groups, use Wilcoxon Signed Rank. This test compares medians, not means.
References
Beyer, W. H. CRC Standard Mathematical Tables, 31st ed. Boca Raton, FL: CRC Press, pp. 536 and 571, 2002.
Everitt, B. S.; Skrondal, A. (2010), The Cambridge Dictionary of Statistics, Cambridge University Press.
Vogt, W.P. (2005). Dictionary of Statistics & Methodology: A Nontechnical Guide for the Social Sciences. SAGE.
Wheelan, C. (2014). Naked Statistics. W. W. Norton & Company
---------------------------------------------------------------------------
Need help with a homework or test question? With Chegg Study, you can get step-by-step solutions to your questions from an expert in the field. Your first 30 minutes with a Chegg tutor is free!
Comments? Need to post a correction? Please Contact Us.