Main > Definitions>What is a Regression Equation?
A regression equation is used in statistics to find out what relationship, if any, exists between a set of variables. This article is a discussion of what a regression equation is and what it is used for. You can find several how-to articles on this site for specific regression equations, including this article on How to Calculate linear regression. You can also find regression equations on the TI89 (see this article "How to Perform TI89 Regression" on our sister site, Calculus How To, for instructions on how to do that).
What is a Regression Equation?

Regression equations can help you figure out if your data can be fit to an equation. This is extremely useful if you want to make predictions from your data — either future predictions or indications of past behavior.
There are several types of regression equations. Some of the more common include exponential and linear Regression (to find out if the data fits a linear equation). The linear regression equation is shown below.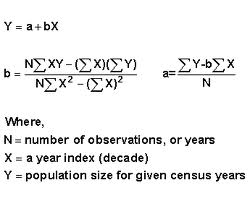 Downside of Regression Analysis
Unfortunately, there isn't a single regression equation that will tell you what type of regression equation to use. In order to make data fit an equation, you have to figure out what general pattern the data fits first. The general steps to performing regression include first making a scatter plot and then making a guess as to what kind of equation might be the best fit. Then you can select the appropriate regression equation for the job.
However, as the following image shows, it isn't always completely straightforward to select the appropriate regression equation, especially when you're dealing with real life data.