Looking for elementary statistics help? You've come to the right place. Statistics How To has more than 1,000 articles and hundreds of videos for elementary statistics, probability, AP statistics and advanced statistics topics. Looking for a specific topic? Type it into the search box at the top of the page.
The PROBABILITY AND STATISTICS TOPIC INDEX lists the most popular categories.
INSTALL OUR ANDROID APP for fast help. It's Free!
Check out our Practically Cheating Statistics Handbook, which gives you hundreds of easy-to-follow answers in a PDF format.
Subscribe to our Statistics How To channel on Youtube!
Watch the welcome video:

​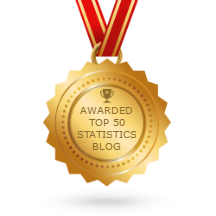 About Us (click here).
Privacy Policy (click here).

What Does a Statistician Do…Really?
I often get asked the question "What does a statistician do?" and people assume that I crunch numbers. I've lost count of the times people have said to me "Oh, I can never balance my checking account." I patiently explain that number crunching is best left to the accountants. And I'm terrible at balancing my checkbook as well.
The truth is, statistics is less about the numbers themselves and more about the patterns those numbers represent. If you have ever read a Highlights magazine as a kid, then you might remember little logic problems like:
What is the next number in this pattern? 1, 4, 2, 5, 3, 6, 4 (the answer is 7).
Well, statistics is like that but on a much larger scale.
For example, I was recently hired by an e-cigarette company to analyze store data and to try and figure out why some stores weren't performing as well as others. It was just a logic problem: something was causing some stores to do well, I just had to figure out what that "something" was. I sorted through reams of data (including census data) over several days and found several patterns that probably indicated the success of some stores was due to several factors, including:
Proximity to a mall.
Lower income in the surrounding areas (lower income earners tend to be smokers at a higher rate than high wage earners).
Multifaceted Roles of a Statistician
The role of a statistician falls into several broad areas:
Collect data using statistical techniques like stratified random sampling.
Ensure that data is trustworthy.
Analyze data to make the meaning clear.
Draw conclusions from data.
Teach at high school, college, and university.
Statisticians also solve real-world problems in business, science and many other fields. For example, a statistician might work with:
Medical research teams to ensure their trials are statistically sound.
Environmentalists to look at data for climate change and make predictions about weather patterns based on the data.
Businesses, to analyze customer data and uncover buying patterns (i.e. when a customer is more likely to buy a certain product).
How to Become a Statistician
A master's degree is usually required to begin a career in statistics. It doesn't have to be in statistics, although you'll probably need some kind of math. My masters degree is in mathematics education, and I started teaching college statistics (and building this site!) right after graduation. Statisticians earn reasonable money, but it's not going to make you rich: according to the Bureau of Labor and Statistics, the median pay for 2012 was $75,560 per year.
Statistics How To Recommends these other sites!
Welcome to Statistics How To!
was last modified:
October 15th, 2017
by