Binomial Theorem > Normal Approximation to solve a binomial problem
Normal Approximation: Overview
When n * p and n * q are greater than 5, you can use the normal approximation to solve a
binomial distribution
problem. This article shows you how to solve those types of problem using the
continuity correction factor
.
Normal Approximation: Example #1 (Video)
Normal Approximation: Example#2
Sixty two percent of 12th graders attend school in a particular urban school district. If a sample of 500 12th grade children are selected, find the probability that at least 290 are actually enrolled in school.
Step 1: Determine p,q, and n:
p is defined in the question as 62%, or 0.62
To find q, subtract p from 1: 1 – 0.62 = 0.38
n is defined in the question as 500
Step 2: Determine if you can use the normal distribution:
n * p = 310 and n * q = 190. These are both larger than 5.
Step 3: Find the mean, μ by multiplying n and p:
n * p = 310
Step 4: Multiply step 3 by q :
310 * 0.38 = 117.8.
Step 5: Take the square root of step 4 to get the standard deviation, σ:
sqrt(117.8)=10.85
Note: The formula for the standard deviation for a binomial is &sqrt;(n*p*q).
Step 6: Write the problem using correct notation:
P(X≥290)
Step 7: Rewrite the problem using the continuity correction factor:
P (X ≥ 290-0.5)= P (X ≥ 289.5)
Step 8: Draw a diagram with the mean in the center. Shade the area that corresponds to the probability you are looking for. We're looking for X ≥ 289.5, so…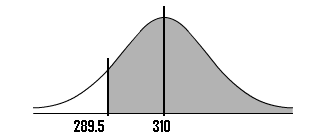 Step 9: Find the z-score.
You can find this by subtracting the mean (μ) from the probability you found in step 7, then dividing by the standard deviation (σ): (289.5 – 310) / 10.85 = -1.89
Step 10: Look up the z-value in the z-table:
The area for -1.819 is 0.4706.
Step 11: Add .5 to your answer in step 10 to find the total area pictured:
0.4706+ 0.5 = 0.9706.
That's it! The probability is .9706, or 97.06%.
Check out our YouTube channel for hundreds more statistics help videos!
------------------------------------------------------------------------------
If you prefer an online interactive environment to learn R and statistics, this free R Tutorial by Datacamp is a great way to get started. If you're are somewhat comfortable with R and are interested in going deeper into Statistics, try this Statistics with R track.
Comments are now closed for this post. Need help or want to post a correction? Please post a comment on our
Facebook page
and I'll do my best to help!
Normal Approximation to solve a Binomial Problem
was last modified:
October 25th, 2017
by