Statistics Definitions > Mode
Contents:
The mode, or modal value, is the most common number in a data set. It's useful in statistics because it can tell you what the most popular item in your set is. For example, you might have results from a customer survey where your company is rated from 1 to 5. If the most popular answer is 2, then you know you need to make some improvements in customer service!
A data set can have no mode, one, or many:
None: 1, 2, 3, 4, 6, 8, 9.
One mode: unimodal: 1, 2, 3, 3, 4, 5.
Two: bimodal: 1, 1, 2, 3, 4, 4, 5.
Three: trimodal: 1, 1, 2, 3, 3, 4, 5, 5.
More than one (two, three or more) = multimodal.
Histograms and Modes
A histogram shows frequencies of values. In other words, how often a value appears in a data set. Look for the "bump" in the histogram. In the histogram below, the bump is at 4: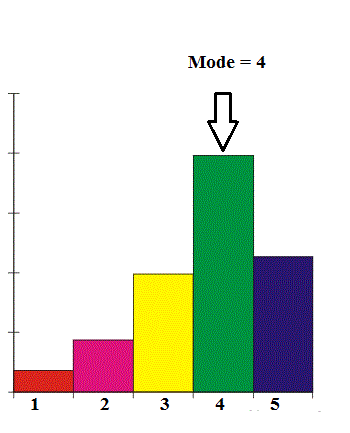 In real life, you'l rarely (if ever) see a histogram with single digit numbers on the x-axis. You'll see bars that are groups of numbers. For example a bar might represent 10 to 20, or it might represent 30-40. The technique is still the same — look for the "bump" in the histogram. With histograms that have bars with groups of numbers, you'll have to ballpark where exactly the number is. The easiest way to do it is to take the number to the left and right of the highest bar and figure out where the middle is.

Fun Fact
A relationship between the mode, mean and median for unimodal distribution curves that are moderately asymmetry is given by this equation:
Mean – mod ≈ 3(mean – median).
Watch the video or read the article below:

The mode in statistics is the most common number in a data set. For example, in this set it's 2, because it is the number that occurs most often: 1,2,2,5,6. Data sets in statistics tend to be much larger, so the mode is easier to spot if you put the numbers in order.
Find the Mode: Steps
Sample question: Find the mode for the following data set:
56, 57, 56, 58, 59, 90, 98, 98, 65, 45, 34, 34, 23, 23, 24, 33, 56, 67, 78, 87, 87, 56.

Step 1: Put the numbers in order:
23 23 24 33 34 34 45 56 56 56 56 57 58 59 65 67 78 87 87 90 98 98
Step 2: Count how many times each number appears. This may be easier if you put the numbers in a column/row format like this:
23 23
24
33
34 34
45
56 56 56 56
57
58
59
65
67
78
87 87
90
98 98
The most common number is 56 in this data set (it appears 4 times).
Microsoft Excel
If you have a large number of items in your data set, Excel has a "Sort" button on the toolbar that will sort numbers from smallest to largest or largest to smallest. Type your numbers into a single column in Excel. Click "Home," then click "Sort and Filter" and then click "A to Z" to sort from smallest to largest or "Z to A" to sort from largest to smallest.
Next: Mode in Minitab
------------------------------------------------------------------------------
If you prefer an online interactive environment to learn R and statistics, this free R Tutorial by Datacamp is a great way to get started. If you're are somewhat comfortable with R and are interested in going deeper into Statistics, try this Statistics with R track.
Comments are now closed for this post. Need help or want to post a correction? Please post a comment on our
Facebook page
and I'll do my best to help!
Mode: How to Find the Mode or Modal Value
was last modified:
February 19th, 2018
by