Probability in Real Life > Odds of Winning Publisher's Clearing House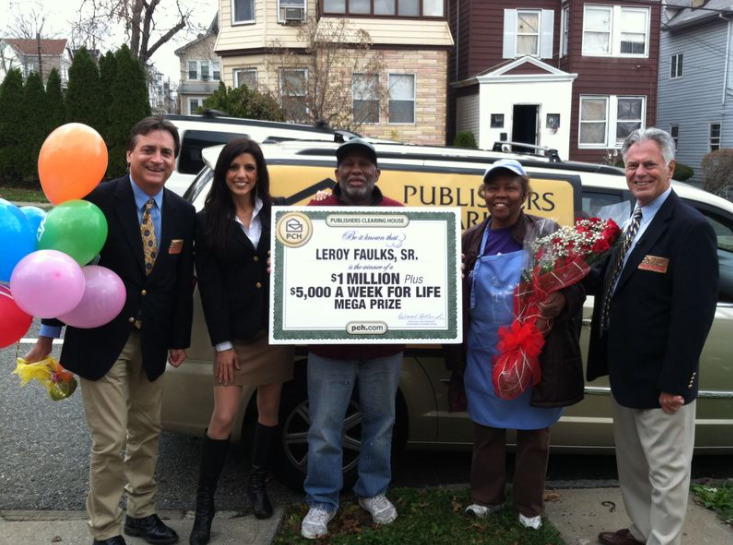 Publisher's Clearing House (PCH) has awarded more than $315 million in prizes since 1967, when the famed sweepstakes began [1]. PCH uses the sweepstakes to promote magazine subscriptions and other merchandise like jewelry and time-share vacations. This nets the company one billion dollars a year in revenue [2].
What are The Odds of Winning Publisher's Clearing House?
Your odds of winning one of PCH's top prizes are slim. For example, the odds of winning $5,000 a week for life are 1 in 6.2 billion [3]. To put that in perspective, line up all the 1.6 million residents of Manhattan Island four thousand times and pick one winner. Or—if you like sports analogies—fill the Dodger's stadium (capacity 56,000) one hundred and ten thousand times and then pick one winner. The odds are so tiny that PCH is at the top of sweepstakes you're least likely to win. If you entered 1,000 times, your odds are still a measly 1 in 6,200,000.
Is PCH Legitimate?
The PCH sweepstakes is legitimate, albeit with a chequered history. Numerous states sued the company back in the 90's, alleging deceptive practices convinced customers think that they had a better chance of winning the jackpot if they purchased more magazines. In addition, as PCH is so well know, that makes it a target for scammers. "I could cite 20 different ways scammers use to capitalize on our company name and sweepstakes," PCH official Christopher Irving told AARP's Scam Alert [4]. Top of the scam list: phony congratulation letters, phone calls and emails that claim you need to pay money in order to collect your winnings The only way PCH notifies winners is with their in-person Prize Patrol; yes, they really do show up on your doorstep with a camera.
Odds of Winning Publisher's Clearing House are Stacked Against You
Even though PCH is legitimate, bear in mind that the odds are stacked against you. Even if you enter 1,000 times, you've got better odds at being killed by a shark (1 in 3,748,067)[5]. Even getting a one-time payout of $2,500 has slim odds of about 1 in 130 million. Not only are you not likely to win anything, your information can be sold to third-parties including advertisers, publishers, and commercial data aggregators [6]—placing you on a potential avalanche of mailing lists. You could use a dedicated sweepstakes email to mitigate that risk, but at a 1 in 6.2 billion chance of a win, you may want to put that email (not to mention your time) to better uses.
References
Image: Publishers Clearing House, CC BY-SA 3.0 , via Wikimedia Commons.
[1] LA Times: Ask Laz. Your Long Odds of Winning Publisher's Clearing House. https://www.latimes.com/business/la-fi-lazarus-lottery-scams-20170315-story.html
[2] PCH Rules
[3] https://www.businessinsider.com/publishers-clearing-house-1-billion-company-sweepstakes-lawsuit-data-digital-direct-mail-2018-8
[4] https://www.aarp.org/money/scams-fraud/info-02-2012/publishers-clearing-house-sweepstakes-scam-alert.html
[5] https://www.floridamuseum.ufl.edu/shark-attacks/odds/compare-risk/death/
[6] https://pch.custhelp.com/app/answers/detail/a_id/66/~/does-pch.com-disclose-user-information-to-third-parties%3F