Probability and Statistics > Basic Statistics> > What is a Factorial ! ?


Watch the video or read the article below:

What is a Factorial ! ?
Factorials are introduced in algebra. They are also used in stats classes, especially in combination and permutation calculations.
When you see the ! symbol after a number, that means it's a factorial:
6! means "six factorial."
3! means "3 factorial."
It's a shorthand way of writing numbers. For example, instead of writing 479001600, you could write 12! instead.
The "Mathy" definition: Factorials are products of every whole number from 1 to n. For example, if n is 3 then 3! is 3 x 2 x 1 = 6. 
What is a Factorial: Using the TI 83
Most calculators have a factorial button. It's usually hidden in a menu somewhere. On the TI 83, you can find it in the PRB menu. Here's how to find six factorial (6!) on the TI-83:
• On the home screen, press [CLEAR]
• Press [6] [MATH] and then press the left arrow key to select the PRB menu.
• Press [4] for !.
• Press [ENTER] to display the answer of 720.
What is a Factorial: Using Google
If you're on the internet, Google can also do the work for you!
Go to the search bar at Google.com
Type in a factorial, such as 36!
Press enter
12 ! = 479 001 600
Google can also figure out more complicated factorials for you, like 36! / (12-10)!6!. Make sure you put in parentheses and a multiplication sign (just as you would on any basic calculator). Like this:
36! / ((12-10)! * 6!) = 2.58328699 × 1038 (☨)
Google Calculator Tip: To multiply using Google, use an asterisk (*) instead of a "×" symbol.
What is a factorial used for in stats?
In algebra, you probably encountered ugly-looking factorials like (x-10!)/(x+9!). Don't worry; You won't be seeing any of these in your statis class. Phew! The only time you'll see them is for permutation and combination problems.
How to Solve Permutations and Combinations.
The equations look like this: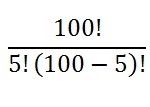 And that's something you can input into your calculator (or Google!).
10 Factorial
10 factorial is equal to 3,628,800.
Why?
10 factorial is just another way to write 10 x 9 x 8 x 7 x 6 x 5 x 4 x 3 x 2 x 1.
In other words, 10 factorial is just multiplying 10 by a descending series of natural numbers. You'll usually see it written as 10!. The exclamation point just means factorial in the same way that π means pi or e means Euler's number.
10 Factorial Seconds
Interestingly, 10 factorial is exactly the number of seconds in 6 weeks.
60 seconds in a minute
x 60 seconds in an hour = 3600
x 24 hours in a day = 86400
x 7 days in a week = 604800
x 6 weeks = 3,628,800.
A reverse way to do this is to factor 3,628,800: you'll get all the numbers from 1 to 9.
It's one of the only factorials that represents something in real life that you can relate to* (according to John D Cook, Avogadro's constant — an important number in chemistry — comes close at around 24! but it isn't exact).
*There are a few other factorials that relate to time:
4! seconds = 24 seconds.
5! seconds = 2 minutes.
6! seconds = 12 minutes.
How to Find 10 Factorial
You have several ways to find 10 factorial:
Multiply 10 x 9 x 8 x 7 x 6 x 5 x 4 x 3 x 2 x 1 on any calculator.
Type 10 Factorial into the Google search box. Google will give you the answer.
Find the factorial button on your calculator (the ! button). You may have to search in the catalog. On the TI 83, you can find the ! button by pressing MATH and then the left arrow key. Scroll down to !. Use the ! key after a number on the home screen. For example, type 10! and then press Enter.
Use an online factorial calculator, like this one.Just type 10 into the box and then press Calculate.
The long way, using unit analysis and prime factorization. The image below shows the process. Thanks to Yozh.org for this procedure.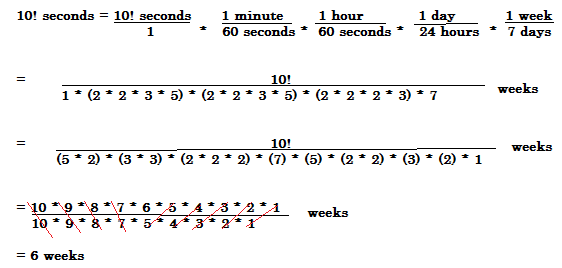 Check out our YouTube channel for short videos on stats topics.
What is a Factorial ! ? …and How to Solve Them
was last modified:
August 6th, 2017
by