Probability and Statistics > Probability > How to Use a Probability Tree
Watch the video or Read the steps below to find out how to use a probability tree:

How to Use a Probability Tree or Decision Tree: Overview
Sometimes, you'll be faced with a probability question that just doesn't have a simple solution. Drawing a probability tree (or a tree diagram) is a way for you to visually see all of the possible choices, and to avoid making mathematical errors. This how to will show you the step-by-step process of using a decision tree.
How to Use a Probability Tree: Steps
Sample question: "An airplane manufacturer has three factories A B and C which produce 50%, 25%, and 25%, respectively, of a particular airplane. Seventy percent of the airplanes produced in factory A are passenger airplanes, 25% of those produced in factory B are passenger airplanes, and 25% of the airplanes produced in factory C are passenger airplanes. If an airplane produced by the manufacturer is selected at random, calculate the probability the airplane will be a passenger plane."
Step 1:Draw lines to represent the first set of options in the question (in our case, 3 factories). Label them (our question list A B and C so that is what we'll use here).
Step 2: Convert the percentages to decimals, and place those on the appropriate branch in the diagram. For our example, 50% = 0.5, and 25% = 0.25.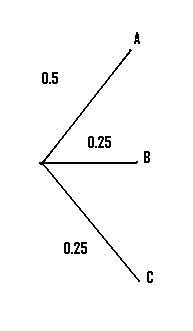 Step 3: Draw the next set of branches. In our case, we were told that 70% of factory A's output was passenger. Converting to decimals, we have 0.7 P ("P" is just my own shorthand here for "Passenger") and 0.3 NP ("NP" = "Not Passenger").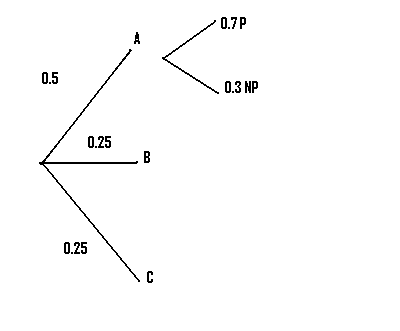 Step 4:Repeat step 3 for as many branches as you are given.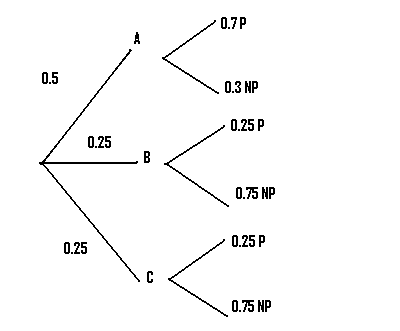 Step 5: Multiply the probabilities of the first branch that produces the desired result together. In our case, we want to know about the production of passenger places, so we choose the first branch that leads to P.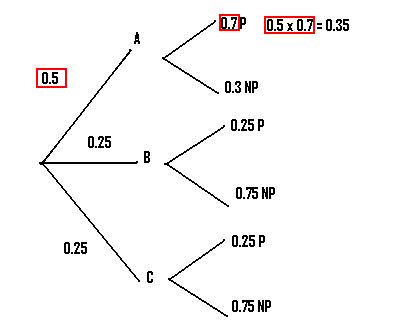 Step 6: Multiply the remaining branches that produce the desired result. In our example there are two more branches that can lead to P.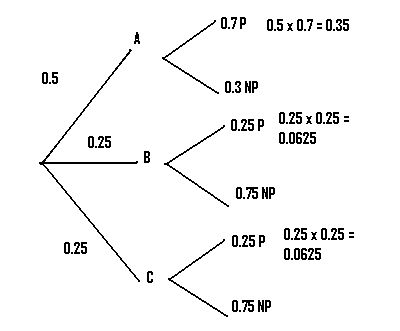 Step 6: Add up all of the probabilities you calculated in steps 5 and 6. In our example, we had:
.35 + .0625 + .0625 = .475
That's it!
How to Use a Probability Tree
was last modified:
September 3rd, 2015
by