Clustering > Dendrograms
What is a Dendrogram?
A dendrogram is a type of
tree diagram
showing
hierarchical clustering
— relationships between similar sets of data. They are frequently used in biology to show how genes or samples are clustered, but they can represent any type of grouped data.
Parts of a Dendrogram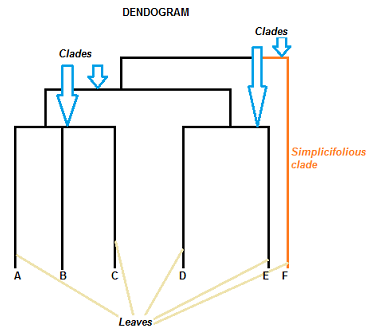 A dendogram can be a column graph (as in the image below) or a row graph. Some dendograms are circular or have a fluid-shape, but software will usually produce a row or column graph. No matter what the shape, the basic graph is made of the same parts:
The clade is the branch. Usually labeled with Greek letters from left to right (e.g. α β, δ…).
Each clade has one or more leaves. The leaves in the above image are:

Single (simplicifolius): F
Double (bifolius): D E
Triple (trifolious): A B C
A clade can theoretically have an infinite amount of leaves. However, the more leaves you have, the harder the graph will be to read with the naked eye.
How to Read a Dendrogram
The clades are arranged according to how similar (or dissimilar) they are. Clades that are close to the same height are similar to each other; clades with different heights are dissimilar — the greater the difference in height, the more dissimilarity (similarity can be measured in many different ways; One of the most popular measures is Pearson's Correlation Coefficient).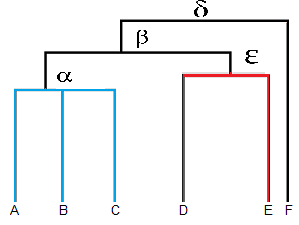 Leaves A, B, and C are more similar to each other than they are to leaves D, E, or F.
Leaves D and E are more similar to each other than they are to leaves A, B, C, or F.
Leaf F is substantially different from all of the other leaves.
Note that on the above graph, leaves A,B,C,D,and E Are joined by the same clave, β. That means that the two groups (A,B,C & D,E) are more similar to each other than they are to F.
If you prefer an online interactive environment to learn R and statistics, this free R Tutorial by Datacamp is a great way to get started. If you're are somewhat comfortable with R and are interested in going deeper into Statistics, try this Statistics with R track.
Comments are now closed for this post. Need help or want to post a correction? Please post a comment on our
Facebook page
and I'll do my best to help!
Dendrogram: Definition, Examples, How to Read One
was last modified:
October 12th, 2017
by